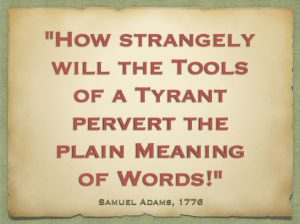 Language is an important tool of political control. In our modern Twitter-pated world where sound bites rule, words or labels do not have to be accurate. They are easily thrown about and can be applied to anything. The Twitter-narrative does not have to be accurate to be seen by millions.
Our modern technology has made it easier to spread spurious ideas around the globe. There is nothing new here. Samuel Adams, noted the same thing in 1776. He said, "How strangely will the Tools of a Tyrant pervert the plain Meaning of Words!"
This is why we see policies emanating from Federal agencies. i.e, BLM, EPA, USFS, Public Schools and Universities that appear confused, misaligned or contradictory. The words are being manipulated based upon their value as sound bites, not their adherence to truth.
The strategies employed by the federal government and its cadre of self-seeking crony-capitalists and bureaucrats is actually quite Machiavellian.
For some background, Machiavelli, was disillusioned with the myriad of struggles amongst smaller cities in Italy during the 1500's. He viewed the small-townships and communities, with their independence, as detrimental to Italy's potential for greatness. He defined several effective methods for seizing and maintaining power.
His formula for effective government asserted that good rulers sometimes have to learn "not to be good." He, noted, they must be willing to set aside ethical concerns of justice, honesty, and kindness in order to maintain the stability of the state.
This is the essence of today's statism – where the stability and power of the state matters more than your individual Life, Liberty or free pursuits.
Wikipedia notes some attributes of Machiavellian theory:
    Engage in both Blame and Forgiveness, as the situation dictates;
    Engage in both Lying and Truth-telling, as appropriate means to an end;
    Make alliances and break alliances to fit the circumstance;
    Make promises and break promises as the need arises;
    Make rules and break rules as necessary;
    Mislead and misdirect to deceive the citizens.
Notice that Machiavelli's list simultaneously names both sides of each issue, i.e., lie and tell the truth. His advise was to use whichever one, at whichever moment, as a means for maintaining power and securing the stability of the state.
Our founder's unanimously rejected the Machiavellian theory.  They would not be swayed by pragmatic circumstances to permit some deception on Monday followed by a small dose of truth on Tuesday. They knew that  powerful men could sway public opinion by deceptively promoting uncertainty and fear.

This is why America was conceived and developed as a constitutionally federated republic. Each of these three terms, together, are essential for conveying the basic ideas describing our form of government.*
First, the Constitution was a written document that pre-defined and limited the extent of government's responsibilities. These limits are often referred to as the enumerated powers. Madison wrote,
"The powers delegated by the proposed Constitution to the Federal Government, are few and defined.  Those which are to remain in the State Governments are numerous and indefinite. … The powers reserved to the several States will extend to all the objects, which, in the ordinary course of affairs, concern the lives, liberties and properties of the people." – Federalist #45.
Our Founder's words had meaning. In their day, male meant male, terror meant terror, illegal meant illegal. These meanings were known and understood universally.  In this way, the Constitution was a document where there was no room for arbitrary changes in policy or authority.
The Constitution was based upon defined rules, not guidelines. These rules were the  well-understood principals for attaining Life, Liberty and personal fulfillment.
Second, the Constitution was discussed, amended, and ratified by a federation of free, independent and sovereign states. The same thirteen colonies who issued, "The unanimous Declaration of the thirteen united States of America" in Congress on July 4, 1776.
Notice even in this declaration, "united" is lower-case and "States" was written with an initial capital.  There was no desire for an outside ruler, whether King George III, Parliament, Congress or the Office of the President. The State was recognized as the ultimate source for local governance, not the U.N., NATO, TPP, nor the federal leviathan.
Lastly, Republican government refers to two things: the origin of governmental powers, and the manner in which these powers are exercised. That is, they come from the consent of the governed and they are exercised by elected representatives.
James Madison said that "we may define a republic to be … a government which derives all its powers directly or indirectly from the great body of the people, and is administered by persons holding their offices during pleasure, for a limited period, or during good behavior." – Federalist #39
In No. California and So. Oregon there are people who realize that they have been swindled by self-seeking politicians who are following Machiavelli's rules.  They are promoting a movement for the State of Jefferson. (General information, Latest video)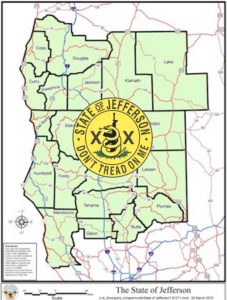 They recognize that today's political class are no longer serving the Constitution –  they no longer serve for limited periods; they have no fiscal integrity; they are waging war against the Bill of Rights; and they are no longer serving the general welfare. Today, the political elites work for Wall Street-financed crony-capitalists, self-interested public-sector unions, government-financed community service and public health agencies. Each of these entities employs scores pf lobbyists to ensure their access to America's largess, the seed-corn of our future. The Machiavellian progressives are tearing at our Republic's foundations.
The State of Jefferson movement has a slogan, "The Time Has Come For 51," meaning they would like to split from their respective state governments and become the 51st state in the Union. It's been done before (think, Virginia and West Virginia), and with popular momentum it can happen again.
But, I contend, its more than just time for 51. It's time for all fifty states to secure our individual liberty and unalienable rights. Its time for voters to reject statism and return to local governance and sound Constitutional principles. If their state's Representatives and Senators won't serve these constitutional principles then its time to cut those Machiavellian cohorts free from their positions of power.
---
* Please refer to Carson, Clarence B., The American Tradition, (The Foundation for Economic Education, Inc., New York, 1964) for a thorough exploration of these ideas.