I received a note from a supporter that I would like to share.
This was written by someone who has worked tirelessly for public access to the mountains and forests that our tax dollars pay to keep open. The anger and frustration voiced by this man and others is what keeps me motivated to make change for Oregonians. This individual will not be satisfied with empty rhetoric or false promises. For too long we have shrugged aside do-nothing representation and allowed too many excuses about Harry Reid and Nancy Pelosi.
It's time to start dismantling the Federal tyranny over our open places and lifestyles.
Here's his letter complete with the graphic which he enclosed:
"Greg Walden's record on keeping your mountains open – 12 National Forests in his district. 10 are closed to cross country travel, thousands of miles of roads closed, thousands of Oregonians locked out. All during Greg's tenure as our 'representative'.??

Is he actually doing something to address a problem that's keeping him employed? Think about it, if he never fixes it, then he keeps getting to run these ads saying – send me back to DC and I'll get it right this time.??

I for one don't believe him,and I'd been told in the past the man was a liar and I didn't want to believe it, but unfortunately, over the last two years I have learned differently."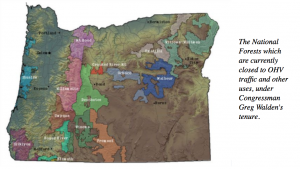 I want to bring to your attention a bill put forth in Utah to transfer Federal control of public lands. While many people fear that the state is no better than the Federal government, I think it's essential that we start by bringing these lands into the most local arena possible for better management and control. This means states, counties and private owners need to have a say in our lands, and we need to start that process.
In Utah's bill, in lines 99 through 120 or so, it references the "leadership of United States Senator Thomas Hart Benton from Missouri" which is paramount to this discussion. Benton County Oregon was named after this Senator because of his work in helping to settle Oregon.
Back then, he was spot on in his logic and arguments and this is the exact same fight today.
Please take the time to read this bill and the sample one at ALEC, here. We are not alone in our fight for the right to enjoy, use and prosper from our public lands – we must band together and prove that we will not back down on this issue. With your help, I'm convinced that Oregon can shake off the chains of the Federal bureaucracy.
Only then will our kids and grandkids have access to the mountains and forests that we call home.